Projects
Bigger projects are usually documented with a 'project-blog' in which you can follow the progress and completion of different stages in the restoration process. Downhere a few of them are available (not yet translated) :
Soon:

Restoration Maps Sittard-Geleen

In the coming months I will start a blog about an extensive project: the restoration/conservation of 74 heavily damaged topographical maps from the former communities Geleen, Broekstittard, Limbricht, Grevenbicht, Born and Sittard. A huge treasure of historical information will be consultable again in short time!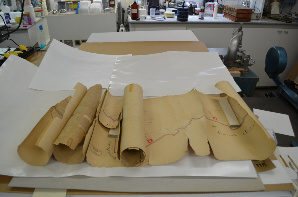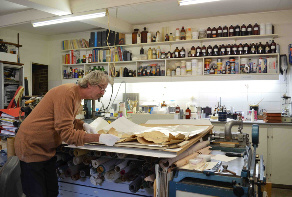 Restoration Blaeu Atlases
These webpages describe the restoration of a 11-volume set Atlas Maior (9 volumes Atlas en 2 volumes Tooneel der Steden) van Joan Blaeu.
Charterproject Sittard-Geleen
A short impression of the restoration and conservation of the 273 charters that belong to the city Sittard, and kept in Archief De Domijnen Sittard-Geleen.
Chauchard Map

Account from the restoration and conservation of a big military map from Germany in 1801 made by the french Capitaine Chauchard. The map now resides on permanent loan in Archief De Domijnen Sittard-Geleen.