Home
In our restorationworkshop we work on the whole spectrum of books and paper. We restore and conserve books and bindings, paper objects and art works from the 14th till the 21th century..

We have all the necessary materials, auxiliary materials, tools and equipment to tackle all the problems we encounter.

Before the start of a restoration(project) you will receive (after we carefully examined your object(s)) a specified quotation and restoration plan. If you agree to that we will carry out the work and a restoration report will be made with pictures and description of the condition of the object before and during restoration.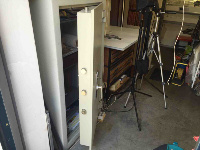 The object you leave in our workshop will be insured for a maximum of € 50.000,- wheras the insurance value equals the replacement value. The costs of an insurance based on the appraisal or market price value has to be carried by the customer. Apart from that our workshop is equipped with a heavy, fireproof safe, sophisticated fire- and smoke detectors, infrared detection, glass breakage detectors and 24hrs ARC reporting (BORG-certified).
You can turn to us for:
- Restoration and conservation of bindings in leather, parchment, paper and other materials
- Restoration and conservation of all sorts of paper and works on paper
- Custom made acidfree boxes and cassettes
- Leafcasting and recondition deteriorated paper
- Making brass fastenings or copying existing fastenings
- Deacidification and gamma radiation (by our colleagues)
- Advice/consultancy regarding collection management, damage survey, disaster planning etc.